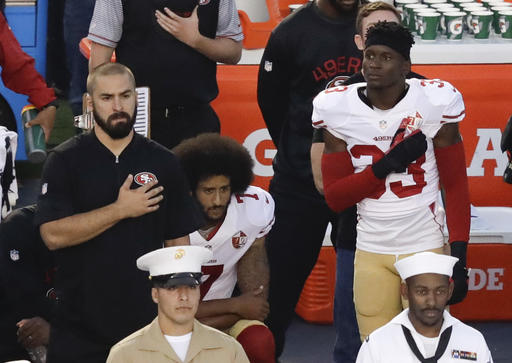 Patriotism and Protest: Colin Kaepernick
September 9, 2016
Poor Protest
The uproar created in the NFL the past few weeks has nothing to do with football. Recently, the quarterback for the San Francisco 49ers, Colin Kaepernick, has started a kind of trend where he doesn't stand for the National Anthem. He has gained some followers over the past few preseason games. Most recently Kaepernick kneeled at a preseason game against the San Diego Chargers, which happened to be a military appreciation game.
Kaepernick says he has a reason for his protest. He claims that he is protesting the mistreatment of African Americans and minorities in the United States. "I am not going to stand up to show pride in a flag for a country that oppresses black people and people of color," Kaepernick said.
In my opinion, there are ways of protesting on behalf of this important issue other than not standing for the national anthem. Other NFL players even agree that there are other ways to protest. Kaepernick has not only offended most Americans but police officers and military personnel who defend this country every day. He wore socks depicting police officers as pigs during a practice. This is just an insensitive act of prejudice against police officers. Even the executive director of the National Association of Police Organizations condemned Kaepernicks actions saying, "Kaepernick is dishonoring police officers with what he is wearing on the field."
Kaepernick said that he will not stop his protest until something changes. There is a better way to bring awareness to the issues surrounding equality in this country. He has to find a way to protest without dishonoring the American flag and our country's National Anthem, especially as the 15th anniversary of the 9/11 terrorist attacks approaches.
View 1 Comment
Protest for Justice
Colin Kaepernick is more than just a rebellious football player, he isn't just looking for publicity, and his actions aren't spur of the moment decisions. Kaepernick is a human rights activist, he's using his stardom as a platform to reach millions of people, and his actions are meticulously planned out.
Kaepernick drew an immense amount of media attention when he sat out the national anthem during week 3 of the preseason against the Packers. The next week he chose to kneel during the anthem. His sitting caused an uproar on social media. There was a major divide, with a group of people supporting him and another group condemning him. Some people view his actions as a form of anti-patriotism, but they are just a small part of his ongoing plan to raise awareness about racism and unequal treatment of minorities in America.
This isn't an isolated incident. Kaepernick has posted several images on Instagram advocating for African American rights. His actions during the national anthem are just an extension of what he's been doing for months. He just hasn't received major publicity for his actions until now. Kaepernick is well within his constitutional rights and has not violated any policy set forth by the NFL. People may not agree with his method, but its not about the method, it's about the message.
View 1 Comment