"What's A Green Wave?"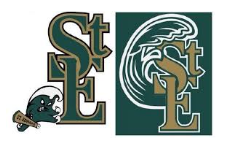 Anyone who has attended a St. Edward sporting event, knows how common this question is: "What's a Green Wave?" In St. Edward's first few years of opening,1941-1943, we tried to call ourselves "Saints", "Hill Toppers", "Watchdogs" and "Truemen". Shocking to say, even our present day "Green Machine" student section tried to find nicknames and stuck with "Crazy Wavies" through the 90's and early 2000's.
If you take a look at old photos of the gym, for the longest time, center court had a picture Johnny Green Wave. It caused quite an uproar when they took him off, which still leads to many alumni's to comment on it. "He actually has had two incarnations…one where he has a basketball in his hands twirling it and one with the football," 1991 alumni and current teacher Mr. Brieger commented.
St. Edward has the exact same mascot as Tulane University, even its name, Johnny Green Wave. But don't be fooled, it isn't uncommon for high school schools to obtain school mascots from universities or professional sports. Needless to say, the best explication of describing our mascot to others, is in the name itself. We are an animated wave in the color green.
In 1945, a tired sportswriter was finishing a story on a St. Edward basketball game when he realized the team needed a nickname. Glancing over at the Fox River and watched the rolling waves inspired "Green Wave". The name stuck and St. Edward has since been known as the Fighting Green Wave.
The year of 1945 is when the green foam body, growling expression and slanted cartoon eyes, white cap painted to resemble sea foam gives his head the distinctive look of the cresting wave. Through her 25 years of teaching, Mrs. Tabbert noticed that Johnny is being set still and not riding the wave. She then stated "Johnny is falling a little. He's not on much spirit wear, it's just a normal wave."
Johnny hasn't been without his controverseries and mishaps. Our mascot was stolen the year we went to State for girls volleyball in 2004. Our Johnny Green Wave costume was stolen at Byron High School, but was fortunately returned in time for him to make make his appearance at Illinois State University for the final four. As our team prepared for the state tournament and interviews came along, reporters stuck with our boys basketball teams nickname and reported the St Edward girls volleyball team as "Johnny Green Wave" as well.