SADD Teams Up With Anderson Animal Shelter to Help Puppies Find their Fur-ever Homes
One of SADD's main goals this year is to be more involved in our local community. SADD wants to provide students different opportunities to do positive things in and around our community. One of the ways SADD is providing these opportunities is through "puppy meet-and-greets" at some of our sports games. Here, you can meet adoptable puppies from Anderson Animal Shelter, a local animal adoption shelter here in Elgin. This idea was pitched by Ms. Woj, SADD's faculty advisor. Ms. Woj's inspiration for the idea came from the fact that she already had a connection with Anderson Animal Shelter – she often fosters cats and dogs from there, so it was easy for her to start a partnership between SADD and Anderson. According to Ms. Woj, the students at St. Edward loved the idea of having adoptable puppies at school events.
SADD has already had two adoption events so far this year. The first event was at the St. Edward football game on October 7, 2016. The foster dog who was visiting was named Reno; he was mixed breed dog with a beautiful brindle coat and was about 4 months old. Reno had so much fun meeting all the new people who stopped by before the football game! He was adopted soon after the event and is now at a loving home!
The second event was during the girls' JV and Varsity basketball games on December 8, 2016. There were two foster dogs visiting us that night: Fozzie and Sissy, two 11-week-old Pyrenees-terrier mixes. This event, like the first one, was very fun and exciting. The puppies were very popular with the SADD volunteers who had signed up to help out at the event, as well as with the other students and families who came to enjoy the basketball games. One member of SADD, Erin Aldana, volunteered for the event because she thinks it's important to bring attention to animals that are in need. "It's a good deed and it's a great way to spend time with all the cute puppies!" Erin told the Edge. "It was very accomplishing to know that one of them got adopted too." Before the games, Fozzie and Sissy were very shy around the large number of people who came to see them. After a while, the puppies soon warmed up to everyone, and began running around, playing and cuddling with whoever stopped by!
Sissy was quickly adopted after the event, and she currently lives in Marion, IA. Ms. Woj happily said that Sissy is doing amazing and she even has some current pictures of her! Fozzie was also adopted after the event and lives in the Elgin area with two human brothers and a human mom. According to Fozzie's new mom "This was truly an angel blessing us – recently my sons lost their father, and Fozzie was separated from his sister – now they have each other." Dogs have that ability to help people feel better, and all of SADD is very happy for Fozzie and his new family, as well as for Sissy and her new family!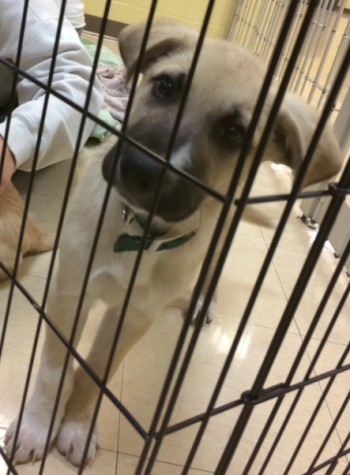 All of these puppies at our sporting events were from Anderson Animal Shelter, which is one of the most progressive humane societies of its kind. It operates under a "no-kill" philosophy; this means that they don't euthanize any adoptable animals to make room for another. Anderson is very committed to an adoption guarantee for all healthy and treatable animals in their care. They also collaborate with many private organizations and individuals to shelter, care for, and promote the adoption of stray and unwanted animals. Anderson is also a strong advocate for the compassionate and humane treatment of these animals through direct care, humane education, and community outreach programs. At Anderson, there are many events, volunteer programs, education programs, and community service opportunities for students and adults.
Fostering these animals is one of the many ways you could help your community, especially your local animal shelter. One of the reasons why Ms. Woj has a connection with Anderson Animal Shelter is because she herself fosters dogs for them. When asked what made her want to foster dogs for Anderson, she said her and her husband have two dogs of their own, both big 90 pound black labs. "We love animals and saw a Facebook post from Anderson on how they needed fosters for puppies and dogs for short periods of time." Since calling Anderson, they have trained and fostered over 20 animals!
One thing that students can take away from this and Ms. Woj's experience is that finding something you can be passion about is really important. Find a cause that means something to you and stick with it. It could be helping little kids, working with animals, cleaning your neighborhood, planting trees and community gardens, or visiting nursing homes. Ms. Woj loved the idea of partnering with Anderson, and when she saw how many students were consistently volunteering to help with these adoption events, she knew it was a keeper. "I hope it inspires kids to get more involved and make a difference!" More and more students are passionate about helping out at these events, and it looks like it is inspiring more students to go out and make a difference in our St. Edward and local communities!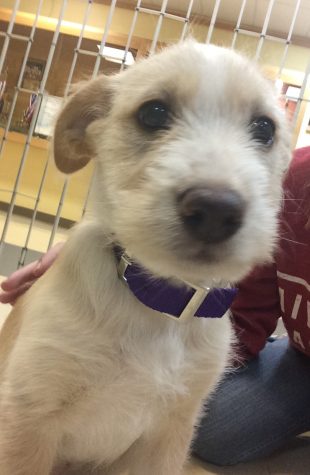 Working with Anderson Animal Shelter is one of the many events that Ms. Woj has planned for SADD this school year. One of the other ongoing SADD activities this year has been a mentor program with at-risk youth in the Elgin area, which has been a lot of fun. SADD also worked on the big school supply drive at the beginning of the school year. In the spring, SADD plans on having a few more events that go along with Operation Click program about teen safe driving.
SADD hopes to have a few more adoption events this spring, during one baseball game and one softball game. Keep an eye out for dates, which will be announced in April!