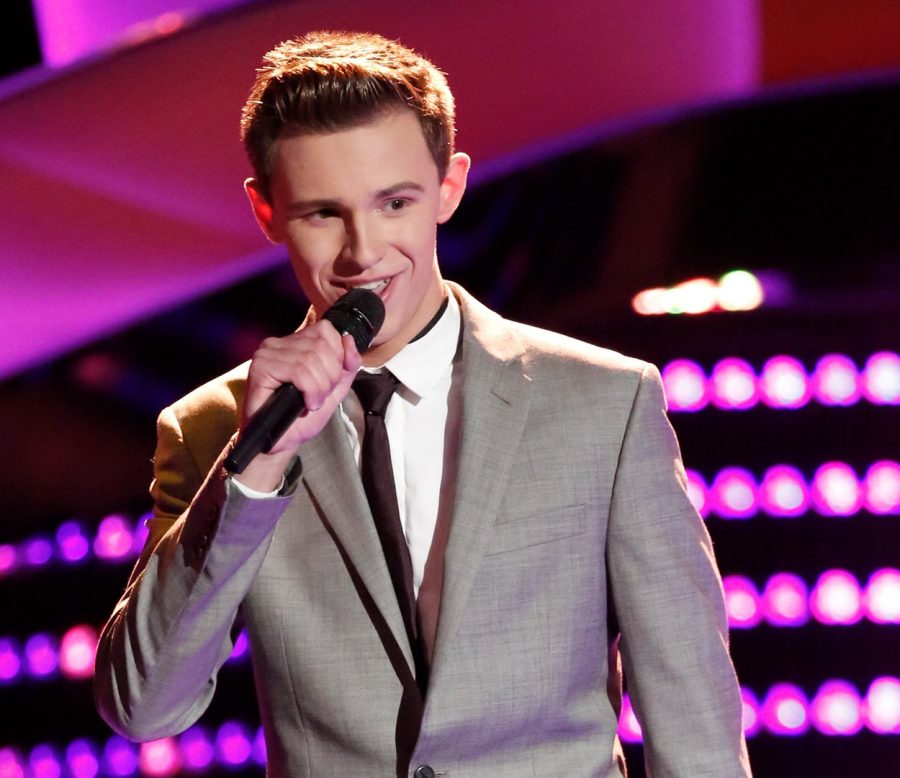 http://www.nbc.com/the-voice/video/riley-elmore-blind-audition-the-way-you-look-tonight/3101952
A lot happened in the world of entertainment in the month of September: celebrity couple Brad Pitt and Angelina Jolie are undergoing a divorce; a junior from Dundee-Crown High School was picked on the popular reality TV show 'The Voice'; and the 68th Emmy's was on Sunday, September 18th.
THE BRANGELINA DIVORCE
As of the week of September 18, it was announced that one of Hollywood's biggest couples is splitting up. Angelina Jolie has filed for divorce from Brad Pitt, her husband of 2 years. The couple married in 2014, and have been together since 2004. Jolie and Pitt have six children together: Maddox (15), Pax (12), Zahara (11), Vivienne (8), Shiloh (10), and Knox (8).  According to People and TMZ, the date of the divorce is listed for September 15, and Jolie has asked for physical custody of all six of their children.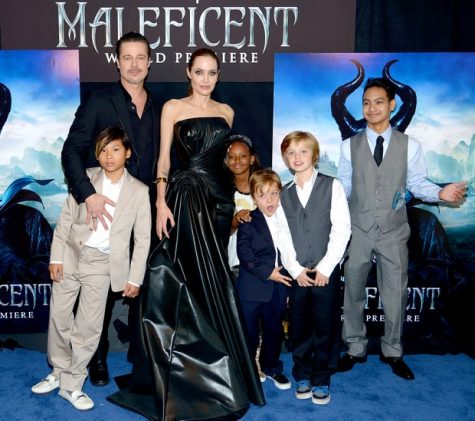 Robert Offer, Jolie's attorney, said in a statement to USA TODAY "This decision was made for the health of the family. She [Jolie] will not be commenting at this time, and asks that the family be given their privacy during this difficult time."
Pit has also released a statement of his own: "I am very saddened by this, but what matters most now is the well-being of our kids," he told People. "I kindly ask the press to give them the space they deserve during this challenging time."
Attorney Robert Preston, co-chair of Greenspoon Marder's matrimonial and family law practice group in New York, suspects that the Brangelina divorce case will have little to do with money or property, and everything to do with the custody of their children. On the divorce petition, there is no indication of a pre- or post-nuptial agreement, and any custody wishes laid out in such a document would be unenforceable, because the court has to act in the best interest of the children, not the parents.
There have already been many speculations in the media about what finally pushed Jolie to file for divorce. Stacy Phillips, a family law attorney with Blank Rome in Century City, found one thing about the filing to be odd: The fact that Jolie is asking for sole physical custody of the kids, but joint legal custody (which includes the ability to make decisions about the kids' lives). Phillips told reporters "If somebody's not capable of having custodial time then one would surmise that they're not capable of making decisions." The fact that all six kids are listed on the petition with Pitt and Jolie as father and mother is a good thing.
Since the week of the announcement, there hasn't been much more drama around the divorce.
DUNDEE-CROWN STUDENT ON 'THE VOICE'
Dundee-Crown High School student Riley Elmore, 16, showcased his musical talent on Monday, September 19th's season 11 premiere of 'The Voice.'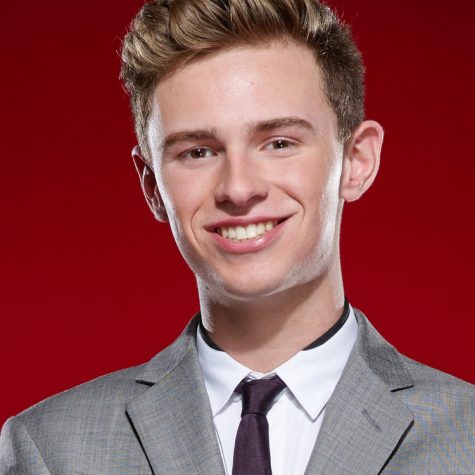 Elmore audition with the song "The Way You Look Tonight" by Frank Sinatra. He was praised for his smooth, Michael Buble-like singing style. Judges Blake Shelton and Adam Levine both tried convincing Elmore to join their teams. However, Elmore chose Levine as his coach after he joined Elmore on stage for a harmonious duet.
After the audition, Elmore told his family "It was definitely something I'm going to remember, like, forever."
During the episode, in the introduction piece about Elmore, it showed him playing the trombone, spinning vinyl records, and his bedroom, which is decorated with Frank Sinatra quotes. On 'The Voice' website (nbc.com), in Elmore's bio, it says:
"Riley's passion for music began when he started playing the trombone in the fourth grade. When he joined a Jazz Band, he discovered a passion for Frank Sinatra. Every time Riley takes the stage, he wears a pin with Frank Sinatra sayings given to him by his grandfather. Riley is definitely an old soul, but as a young artist, he still gets nervous on stage and deals with confidence issues, so performing for four superstar coaches is a big step."
Everyone at Dundee-Crown was cheering him on that Monday morning. Elmore has such a unique voice, and he is extremely talented; I believe that he has a really good chance of making it far into the competition!
You can watch Elmore's audition here!
THE 68th ANNUAL EMMY AWARDS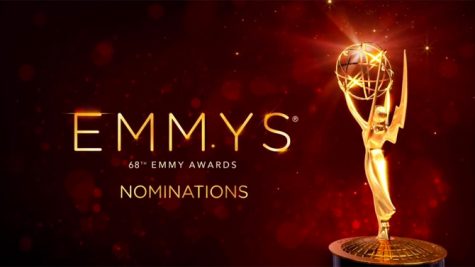 The 68th Annual Primetime Emmy Awards was held on this week on Sunday, September 18th. This year's Emmy Awards was hosted by comedian and talk-show host Jimmy Kimmel. These are the major Emmy Award winners from Sunday night. A complete list of these and the additional winners can be found at emmys.com or hollywoodreporter.com.
Although the Emmy's were nearly a month ago, here is a list of the major awards, just in case you missed them.
Drama Series: "Game of Thrones" (HBO)
Comedy Series: "Veep" (HBO)
Mini-Series or Movie: "The People v. O.J. Simpson: American Crime Story" (FX)
TV Movie: "Sherlock: The Abominable Bride (Masterpiece)" (PBS)
Variety Talk Series: "Last Week Tonight With John Oliver" (HBO)
Variety Sketch Series: "Key & Peele" (Comedy Central)
Actor in a Comedy Series: Jeffrey Tambor, "Transparent"
Actress in a Comedy Series: Julia Louis-Dreyfus, "Veep"
Actor in a Drama Series: Rami Malek, "Mr. Robot"
Actress in a Drama Series: Tatiana Maslany, "Orphan Black"
Actor in a Mini-Series or Movie: Courtney B. Vance, "The People v. O.J. Simpson: American Crime Story"
Actress in a Mini-Series or Movie: Sarah Paulson, "The People v. O.J. Simpson: American Crime Story"
Supporting Actor in a Drama: Ben Mendelsohn, "Bloodline"
Supporting Actress in a Drama: Maggie Smith, "Downtown Abbey"
Supporting Actor in a Comedy: Louie Anderson, "Baskets"
Supporting Actress in a Comedy: Kate McKinnon, "Saturday Night Live"
Supporting Actor in a Limited Series or Movie: Sterling K. Brown, "The People v. O.J. Simpson: American Crime Story"
Supporting Actress in a Mini-Series or Movie: Regina King, "American Crime"
Reality Competition Program: "The Voice" (NBC)
Writing for a Comedy Series: Aziz Ansari and Alan Yang, "Master of None" ("Parents")
Writing for a Drama Series: David Benioff and D.B. Weiss, "Game of Thrones"
Writing for a Mini-Series or Movie: D.V. DeVincentis, "The People v. O.J. Simpson: American Crime Story" ("Marcia, Marcia, Marcia")
Writing for a Variety Special: Patton Oswalt, "Patton Oswalt: Talking for Clapping"
Directing for a Comedy Series: Jill Soloway, "Transparent" ("Man on the Land")
Directing for a Drama Series: Miguel Sapochnik, "Game of Thrones"
Directing for a Mini-Series or Movie: Susan Bier, "The Night Manager"
Directing for a Variety Special: Thomas Kail and Alex Rudzinski, "Grease: Live"